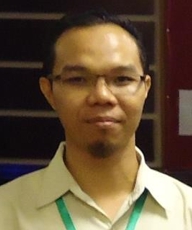 Atmawi Darwis
S.Hut(UNWIM), M.Si(IPB), Dr. (IPB)
School of Life Sciences and Technology
Institut Teknologi Bandung
Phone: +62 22 251 1575, 250 0258
Fax: +62 22 253 4107
E-mail :atmawi@sith.itb.ac.id
EDUCATION
PhD degree (2015); Fiber and Composites Technology, Bogor Agricultural University Graduate School (Research Title: Transformation cross section analysis of oil palm wood laminate used distribution of vascular bundles model).
Master's degree (2008); Forest Sciences, Bogor Agricultural University Graduate School. (Research Title: Fixation of Agathis and Gmelina Densified Woods at Radial Direction and Observation of their Anatomical Structure).
Bachelor's degree (1999); Dept: Forest Products Technology, Faculty of Forestry, Winaya Mukti University, Indonesia (Research Title:  Effect of Hot Pressing to Physical and Mechanical Properties of Paraserianthes falcataria L Nielsen) (in Indonesia).
RESEARCH INTEREST
Wood Sciences (Wood Anatomy and Properties), Wood Quality Enhancement, Wood Composites.
PROFESSIONAL ACADEMIC ACTIVITIES
Member of the Indonesian Wood Research Society (IWoRS)
PUBLICATIONS
A. INTERNATIONAL
Atmawi Darwis, Imam Wahyudi, Wahyu Dwianto, Tekad Dwi Cahyono. 2017. Densified Wood Anatomical Structure and The Effect of Heat Treatment on The Recovery of Set. J Indian Acad Wood Sci Vol. 14 No. 1 Hal: 24-31 ISSN 0972-172X  DOI: 10.1007/s13196-017-0184-z
Atmawi Darwis, Dodik Ridho Nurrochmat, Muh. Yusram Massijaya, Naresworo Nugroho, Eka Mulya Alamsyah, Effendi Tri Bahtiar, Rahmat Safe'i. 2013. Vascular Bundle Distribution Effect on Density and Mechanical Properties of Oil Palm Trunk. Asian J. Plant Sci. 12 No.5 Hal: 208-213. ISSN 1682-3974
Effendi Tri Bahtiar, Atmawi Darwis. 2014. Exponential Curve Modification by Linier and Nonlinier Function to Fit the Fiber Length of Teakwood (Tectona grandis). Biol. Sci. Vol. 14 No. 3 Hal: 183-194. ISSN 1727-3048
B. NATIONAL
Effendi Tri Bahtiar, Naresworo Nugroho, Surjono Surjokusumo, Lina Karlinasari, Atmawi Darwis. 2014. Rasio Ikatan Pembuluh sebagai Substitusi Rasio Modulus Elastisitas pada Analisa Layer System pada Bilah Bambu dan Bambu Laminasi. Jurnal Teknik Sipil Vol.21 No.2. ISSN 0853-4217 Hal: 147-162 ISSN 08532982
Atmawi Darwis, Yusram Massijaya, Naresworo Nugroho, Eka Mulya Alamsyah, Dodik Ridho Nurrochmat. 2014. Bond Ability of Oil Palm Xylem with Isocyanate Adhesive. Jurnal Ilmu dan Teknologi Kayu Tropis Vol. 12 No.1. Hal: 39-47 ISSN 1693-3834
Atmawi Darwis, Yusram Massijaya, Naresworo Nugroho, Eka Mulya Alamsyah. 2014. Karakteristik Papan Laminasi dari Batang Kelapa Sawit. Jurnal Ilmu dan Teknologi Kayu Tropis Vol. 12 No.2. Hal: 157-168 ISSN 1693-3834
Atmawi Darwis, Ratih Damayanti, Imam Wahyudi. 2012. Struktur Anatomi Kayu Surian (Toona sinensis Roem). Jurnal Ilmu dan Teknologi Kayu Tropis10 No.2. Hal: 159-167 ISSN 1693-3834
Effendi Tri Bahtiar, Naresworo Nugroho, Arinana, Atmawi Darwis. 2012. Pendugaan Sisa Umur Pakai Kayu Komponen Cooling Tower di Pembangkit Listrik Tenaga Panas Bumi (PLTP) Unit II Kamojang. Jurnal Teknik Sipil Vol.19. No.2. Hal: 103113. ISSN 0853-2982
Lusita Wardani, Effendi Tri Bahtiar, Ignasia Maria Sulastiningsih, Atmawi Darwis, Lina Karlinasari, Naresworo Nugroho, Suryono Surjokusumo. 2011. Kekuatan Tekan dan Rasio Poisson Kayu Pangsor dan Kecapi. Jurnal Ilmu dan Teknologi Hasil Hutan Vol. 4. No.1. Hal: 1-7. ISSN 1979-5238
Atmawi Darwis, Krisdianto, Ichsan Firmansyah. 2010. Kualitas Serat Kayu Randu Alas (Bombax ceiba) Sebagai Bahan Baku Kertas. Jurnal Ilmu dan Teknologi Hasil Hutan Vol. 3. No.2. Hal: 56-60. ISSN 1979-5238
Atmawi Darwis. 2010. Variasi Dimensi Trakeid Kayu Agathis loranthifolia Wana Mukti Forestry Research Journal Vol.10. No.2. Hal: 57-62. ISSN 1412-8381
Atmawi Darwis. 2009. Studi Struktur Tiga Dimensi Kayu Pinus merkusii Et de Vr. Wana Mukti Forestry Research Journal Vol.10. No.1. Hal: 61-66. ISSN 14128381
Atmawi Darwis. 2007. Studi Struktur Tiga Dimensi Kayu Agathis loranthifolia Wana Mukti Forestry Research Journal Vol.5. No.1. Hal: 57-61. ISSN 1412-8381
Atmawi Darwis, Rudi Hartono, Sansan Sarif Hidayat. 2005. Persentase Kayu Teras dan kayu Gubal serta Penentuan Kayu Juvenil dan Kayu Dewasa pada Lima Kelas Umur Kayu Jati (Tectona grandisF). Jurnal Ilmu dan Teknologi Kayu Tropis Vol.3 No.1. Hal: 6-8.  ISSN 1693-3834
BOOK CHAPTER
Rudi Dungani, H.P.S. Abdul Khalil, N.A. Sri Aprilis, Ihak Sumardi, P. Aditiawati, Atmawi Darwis, Tati Karliati, A. Sulaiman, Enih Rosamah and Medyan Riza. Chapter 3: Bionanomaterial from Agricultural Waste and its Application. In: Cellulose Reinforced Nanofibre Composites. Production, Properties and Applications. (eds. Mohammad Jawaid, Sami Boufi & HPS Abdul Khalil). Woodhead Publishing Series in Composte Science and Engineering (2017) ISBN: 978-0-08-100957-4
PRESENTATIONS
Atmawi Darwis, Lusita Wardani, Ignasia Maria Sulastiningsih, Ihak Sumardi. 2014. Struktur Anatomi Kayu Kecapi (Sandorikum koetjapi). The 17th Annual Meeting of the Indonesian Wood Research Society, 11 Nopember 2014. Medan, Indonesia
Atmawi Darwis, Lusita Wardani, Ignasia Maria Sulastiningsih, Imam Wahyudi. 2013. Struktur Anatomi Kayu Ficus callosa Willd. The 16th Annual Meeting of the Indonesian Wood Research Society, 6 Nopember 2013. Balikpapan, Indonesia
Atmawi Darwis, Dodik Ridho Nurrochmat, Yusram Massijaya, Naresworo Nugroho, Eka Mulya Alamsyah, Rahmat Safe'i. 2013. Karakteristik Glulam dari 1/3 Bagian Terluar Batang Kelapa Sawit (Glulam Characteristics from Third Outermost Part of Oil Palm Trunk). Seminar Tahunan Masyarakat Perkelapa-Sawitan Indonesia (MAKSI), 25 September 2013. Bogor, Indonesia
Atmawi Darwis, Dodik Ridho Nurrochmat, Yusram Massijaya, Rahmat Safe'i. Utilization Of Oil Palm Trunk Waste For Glued Laminated Timber  (Glulam). 2013. The 4th International Conference and Exhibition of palm Oil (Poster Presenter). The Indonesian Oil Palm Society (MAKSI). 7-9 Mei 2013. Bogor, Indonesia
Atmawi Darwis, Effendi Tri Bahtiar, Dea Dara Augistyra. Ikatan Pembuluh Ruas dan Buku Bambu Tali, Betung, Andong. 2012. The 15th Annual Meeting of the Indonesian Wood Research Society, 6-7 Nopember 2012. Makasar, Indonesia
Ihak Sumardi, Atmawi Darwis. Strandboard Manufacture from Veneer Wasted. 2011. The 3rd International Symposium of Indonesian Wood Research Society, Yogyakarta
Atmawi Darwis, Imam Wahyudi, Ratih Damayanti. 2011. Struktur Anatomi Kayu Toona sinensis The 14th Annual Meeting of the Indonesian Wood Research Society, Yogyakarta, Indonesia
Atmawi Darwis, Imam Wahyudi, Wahyu Dwianto. 2009. Fixation of Agathis and Gmelina Densified Woods at Radial Direction and Observation of Their Anatomical Structure. The First International Symposium of Indonesian Wood Research Society, Bogor
RESEARCH GRANT
P3MI ITB. 2017. Karakteristik Anatomi Buluh Bambu Surat (Gigantochloa pseudoarundinacea) dan bambu tali (Gigantochloa apus).
ITB Grant. 2017. Rekayasa Kayu Sengon Sebagai Material Meubel Berkualitas Tinggi
Ipteks Dikti 2016. Eksplorasi Pemanfaatan dan Karakteristik Kayu Surian (Toona sinensis Roem) sebagai Bahan Baku Produk Biokomposit Masa Depan
MP3EI DP2M Dikti. 2012-2013. Pemanfaatan limbah batang kelapa sawit menjadi produk kayu laminasi dan pelet kayu sebagai nilai tambah pada pengusahaan perkebunan kelapa sawit di Indonesia
ITB Grant. 2011. Rekayasa Limbah Veneer Sengon Untuk Papan Strandboard
DP2M Dikti. 2010. Pembuatan Bilah Sambung Kayu Laminasi dan Uji Sifat Rekat dari Kayu Mangium (Acacia mangium), Tusam Pinus merkusii) dan Sukun (Artocarpus communis)
PENGABDIAN KEPADA MASYARAKAT
PPM Dana Mandiri ITB 2017. Diversifikasi Produk Bambu Melalui Teknologi Laminasi Dalam Upaya Pemberdayaan Masyarakat Di Sekitar Kawasan Hutan Pendidikan Gunung Geulis Jatinangor Sumedang.
PPM Dana Mandiri ITB 2016. Pelatihan peningkatan kualitas kayu hutan rakyat bagi anggota kelompok tani hutan rakyat di Desa Cibugel, Kecamatan Cibugel, Kabupaten Sumedang.
PPM Dana Mandiri ITB Pelatihan dan peningkatan kualitas pengrajin kayu sekitar kampus ITB dan pembuatan website klinik kayu