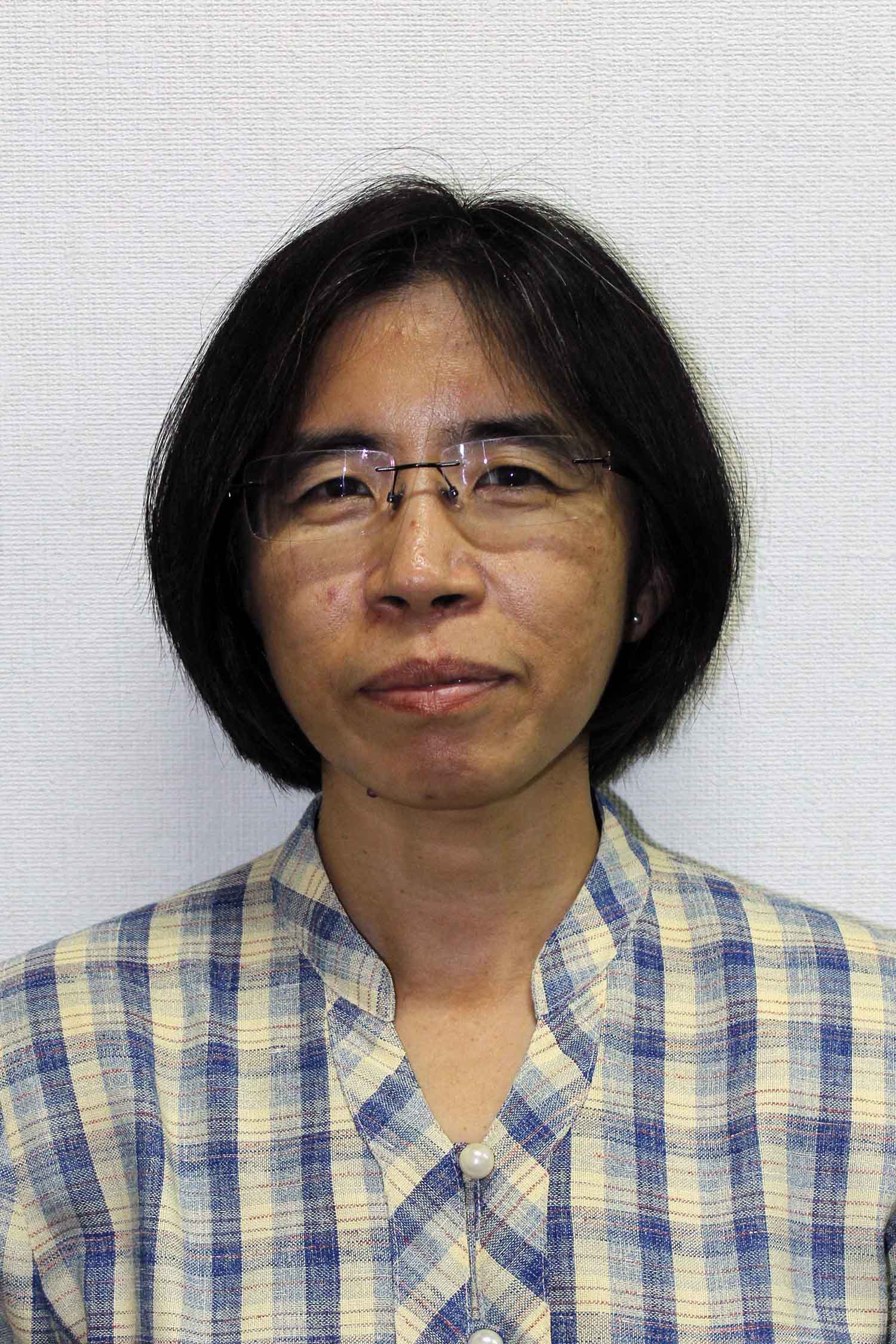 Dr. Marselina Irasonia Tan
Ph.D (Med.Uni Lübeck)
---
School of Life Sciences & Technology
Institut Teknologi Bandung
Jl. Ganesa No. 10 Bandung,
Indonesia 40132
Phone: +62 22 251 1575, 250 0258
Fax: +62 22 253 4107
Email: marsel@sith.itb.ac.id
Education

| | | |
| --- | --- | --- |
| Associate Professor in Cell and Molecular Biology | Institut Teknologi Bandung | 2010 |
| Doctorate (Molecular Biology) | Medical University Lübeck | 1998 |
| Master (Biology) | Institut Teknologi Bandung | 1990 |
| Bachelor (Biology) | Padjajaran University | 1986 |
Courses Tought

 Imunologi, Biologi Kanker, Perkembangan Hewan, Biologi Sel dan Molekul I
Publications

International Publications :
Ugiyadi, M., Tan , M. I., Giri-Rachman, E. A., Zuhairi, F.R., and Sumarsono S. H.. 2013. The expression of essential components for human influenza virus internalisation in Vero and MDCK cells. Cytobiotech, Published online: 04 August 2013.
Zuhairi, F.R.,, Ugiyadi, and M., Tan , M. I. . 2012. The role of trypsin in the internalization process of influenza H1N1 virus into Vero and MDCK Cells. ITB Journal of Science , 4A: 297-307
Rahayu, R., Ahmad, I., Ratna E.S., Tan, M.I ., and Hariani, N. 2012. Present status for carbamate, pyrethroids and phenylpyrazole insecticide resistance to German cockroach, Blatella germanica in Indonesia. Journal of Entomology , 9: 361-367.
International Seminars :
Isma Kurniatanty, Sony Heru Sumarsono & Marselina I.Tan . 2013. Preliminary study of anticancer activity from brown algae (Phaeophyta) extracts. International Seminar on Tropical Bioresources for Sustainable Bioindustry. ITB Bandung, 30–31 October 2013
Maharani Ugayadi,  Marselina I Tan , Ernawati A Giri rahman, Fawzi R Zuhairi, Sony H Sumarsono. Primary monkey trachea cell culture express the subtantial components for influenza virus internalization. International Seminar on Tropical Bioresources for Sustainable Bioindustry. ITB Bandung, 30–31 October 2013
Judul tulisan

Tahun

Diterbitkan sebagai:

 •
Tan M.I. and B. N. E. Sophianie. The effects of mangostin on the activity of protein kinase A and expression of estrogen receptor in human breast cancer cell line MCF-7

2011

International conference Proceedings of PSRC – International conference on Management, Social Sciences, Biology & Pharmaceutical Sciences 2011
 •
Tan, M.I. Hormon dan enzim pada kanker.

2008

The 12th Course & Workshop Basic Science of Oncology Modul B. Januari 2008.
 •
Tan, M.I & Agustina, S. 2008. The Effect of Estradiol-17b on The Expression of VEGF and ER Genes Breast Cancer Cell Line MCF-7 Cultured on Type IV Collagen.

2008

The 1st International Symosium on molecular pathogenesis. Bandung, January 2008.
 •
Tan, M.I & Sophianie, N.E. 2007. The effect of mangostin on the activity of protein kinase A and the existence of estrogen receptor protein in human breast cancer cell line MCF-7.

2007

International Seminar on Pharmaceutics. Bandung, October 31-November 1, 2007.
 •
Tan, M.I & Warjoto, R.E. The effect of dichloromethane Extract of Phyllanthus Amarus Schum Et. Thonn. on ERK 1/2 Expression in Mouse Mammary Cancer Cell Line, MMT 060562.

2007

International Seminar on Pharmaceutics. Bandung, October 31-November 1, 2007.
 •
Tan, M.I & Fuad D.G.. The effect of dichloromethane extract of Phyllanthus amarus Schum. et Thonn on apoptosis of mouse mammary cancer cell line MMT 060562 through the caspase-3 activity.

2007

International Seminar on Pharmaceutics. Bandung, October 31-November 1, 2007.
 •
Tan, M.I. Onkogen

2007

The 11th Course & Workshop Basic Science of Oncology Modul A. Mei 2007
 •
Tan, M.I., Velaneta, Haga, S.and S.Imai. Effect of fucoidan and Sargassum siliquosum J. Agardh extract on the expression of ERK1/2 in breast cancer cell line MCF-7.

2006

Meeting of society of research of Phytochemical. Nagoya, Japan. November 2006
 •
Tan, M.I., Velaneta, Haga, S.and S.Imai.Effect of fucoidan and Sargassum siliquosum J. Agardh extract on the expression of ERK1/2 in breast cancer cell line MCF-7.

2006

Association of basic investigation of breast carcinoma.

Chiba PrefectureJapan. July 2006

 •
Tan, M.I. and Sulistyawati, D.R.The effect of fucoidan and Sargassum siliquosum J. Agard extract on the existence of caspase 9 protein in MCF-7 human breast cancer cell line. ICMNS-ITB

2006

ICMNS-ITB, Bandung, November 2006
 •
Tan, M.I. and Wiryanto, A. The Effects of Estradiol-17β on ERK1/2 Expression in MCF-7 Breast Cancer Cell Line.

2006.

ICMNS-ITB, Bandung, November 2006
Professional Memberships

Society for medicinal Plant Research – Gesellschaft fuer Arzneiplanzenforschung
ASOSIASI SEL PUNCA INDONESIA
Research Grant (as Principal Investigator)
The role of BRD4 inhibitor on ovarium cancer development. 2014. Funded by Institut Teknologi Bandung
Effect of stress on oncogenesis of HPV in animal model. 2013. Funded by DAAD-Reinvitation program.
Effect of mangostin and propolis in metastasis and angiogenesis, two important processes in the development of BALB/C mice mammary gland cancer. 2013. Funded by Institut Teknologi Bandung.
GPR55 and LPI role in ovarian cancer development and the activated signal transduction by GPR55-LPI complex. 2012. Fulbright-Visiting Program.
Role of GPR55 in ovarian carcinogenesis. 2012. Funded by Institut Teknologi Bandung
Stem cell transplantation into pancreas of diabetes rats . 2012. THE ASAHI GLASS FOUNDATION.
Signaling pathways that induce overexpression of c-erbB2 gene in SKOV-3 ovarian cancer cell . 2010. Funded by the Ministry of Education and Cuture.
Effect of Phyllantus amarus extract in angiogenesis and breast cancer development) . 2010. Funded by the Ministry of Education and Cuture
Effect of mangostin on the expression of estrogen receptor alpha and beta in breast cancer cell line). 2009. Funded by Institut Teknologi Bandung.
Dr. Marselina Irasonia Tan. 2009. Signaling pathways that induce overexpression of c-erbB2 gene in SKOV-3 ovarian cancer. Riset Hibah Kompetitif Penelitian Kerjasama Internasional- DIKTI.
Efek mangostin terhadap ekspresi reseptor estrogen alfa dan beta pada lini sel kanker payudara (Riset KK- ITB 2009)
Differentiation of mouse bone marrow stem cells into cardiac muscle cells in the presence of HGF and FGF-b-growth factors in in vitro and in vivo system (ASAHI 2008/2009)