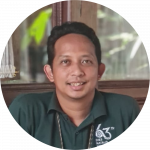 ANGGA DWIARTAMA, M.Si., Ph.D.
Associate Professor
School of Life Sciences and Technology
Institut Teknologi Bandung, Indonesia
Expertise Group : Biological Resources Management
Email : dwiartama@itb.ac.id
Overview
Angga Dwiartama, M.Si., Ph.D. is an Associate Professor at the School of Life Sciences and Technology, Institut Teknologi Bandung (ITB), Indonesia, a faculty member within the Management of Bio-resources Expertise Group, and currently the Vice Dean for Resources Affairs. Dr. Angga's research focuses on multiple aspects of agrifood studies: value chain, environmental governance, Alternative Food Networks (AFNs), food security-sovereignty-justice nexus, and resilience, with a study area in Indonesia, and interests in commodities such as rice, coffee, cocoa, and dairy products. In his studies, Dr. Angga mainly use post-structural political economy approaches [actor-network theory, assemblage, governmentality, theory of practice]. In his daily life, Dr. Angga is a volunteer at Rumah Belajar Mentari, a community learning centre, and a board member of Komunitas 1000 Kebun, an alternative food movement in Bandung. Dr. Angga also has a keen interest in the world of plants and occasionally write, although not professionally, about ethnobotany.