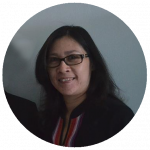 PROF. DR. ANGGRAINI BARLIAN, M.Sc.
Professor
School of  Life Sciences and Technology
Institut Teknologi Bandung, Indonesia
Expertise Group : Animal Physiology, Development, and Biomedical Sciences
Email : aang@itb.ac.id
Overview
Prof. Dr. Anggraini Barlian, M.Sc. primarily focuses in cellular and molecular biology and engineering. She has research interests mainly in cellular mechanisms of aging, cellular mechanism of regeneration as well as its engineering, and reproductive biology. In recent years she is aiming to optimise micropatterning and formulation of tissue engineering as well as uncovering properties of spider silk and their applications. Additionally, from her studies on micropatterning and spider silk, Dr. Anggraini has also patented each inventions related to these practice and biomaterial.