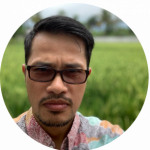 INTAN TAUFIK S.Si., M.Si., Ph.D.
Associate Professor
School of  Life Sciences and Technology
Institut Teknologi Bandung, Indonesia
Expertise Group : Microbial Biotechnology
Email : itaufik@itb.ac.id
OVERVIEW
Intan Taufik, S.Si., M.Si., Ph.D. focuses in the field of microbial physiology, microbial biosystematics, metabolomics, microbial product development, microbial ecology and evolution projects, and microbiology laboratory management. Dr. Intan Taufik has conducted many studies or research related to diversity and microbial dynamics in the environment (air, water, and soil), and the use of microbes in industry (including medicine and postharvest/food). Dr. Intan Taufik has a special interest in the field of coffee development, from the upstream to the post-harvest process. Dr. Intan Taufik and the research team at SITH are currently conducting a patent inspection process for the coffee calming process. Apart from being an expert in this field, currently Dr. Intan Taufik was entrusted with assisting several growth and strengthening of problem-solving innovations in the West Java provincial government.