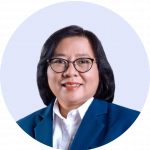 PROF. ENDAH SULISTYAWATI, S.Si., PH.D.
Professor
School of  Life Sciences and Technology
Institut Teknologi Bandung, Indonesia
Expertise Group : Forestry Technology
Email : endah@itb.ac.id
Overview
Dr. Endah Sulistyawati, S.Si., Ph.D. focuses in the fields of forest ecology, landscape ecology, human ecology, management and conservation of tropical bioresources and environment using various approaches including field survey, computer simulation and remote sensing-based analysis. Dr. Endah had developed a computer simulation (KantuSim) to study the impacts of land-use decision-making by swidden farmers in West Kalimantan on the landscape and welfare of the community. Since 2004, she has been conducting research in various ecological and socio-economical aspects on Mt. Papandayan including assessment of plant and bird diversity, spatial and temporal distribution of deforestation, identification of driving forces of deforestation, secondary succession following natural and human-induced disturbances. Another major field studied by Dr. Endah is forest and climate change, in which she has been conducting field assessments of carbon stock in various land-use / cover in West Java, simulation assessment of carbon sequestration in reforestation settings, developing an allometric equation and a remote-sensing-based model to estimate carbon stock at landscape level.