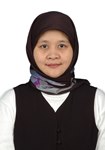 RIZKITA RACHMI ESYANTI, Ph.D.
Associate Professor
School of  Life Sciences and Technology
Institut Teknologi Bandung, Indonesia
Expertise Group : Plant Sciences and Biotechnology
Email : rizkita@itb.ac.id
Overview
Rizkita Rachmi Esyanti, Ph.D.  primarily focuses in various advancements in plant sciences in researching and improving qualities of plant-based resources as well as their interactions with chitosan. Over the years Dr. Rizkita has published various researches in this field such as properties and effects of chitosan in plant resources as well as maintaining health of crops based on studies on herbivores and parasites. She has also contributed over the last decade in developing plant tissue cultures and applying sustainable methods of maintaining quality of crops.