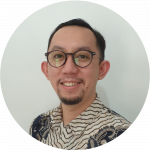 NEIL PRIHARTO, S.SI., M.T.
Lecturer/Academic Staff
School of Life Sciences and Technology
Institut Teknologi Bandung, Indonesia
Expertise Group : Microbial Biotechnology
Email :  neil@itb.ac.id
Overview
Neil Priharto , S.SI., M.T. is a researcher and lecturer of the Microbial Biotechnology expertise group. His primary focuses are studies on microalgal resources as well as the applications of pyrolysis in production of biological fuel and energy generation.