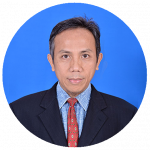 PROF. I NYOMAN PUGEG ARYANTHA, Ph.D.
Professor
School of  Life Sciences and Technology
Institut Teknologi Bandung, Indonesia
Expertise Group : Microbial Biotechnology
Email : nyoman.aryantha@itb.ac.id
Overview
Prof. I Nyoman Pugeg Aryantha, Ph.D. primarily focuses in microbial sciences and biotechnology. Over the years Prof. Nyoman has been involved in research in various microbial life forms useful and beneficial for humans such as Bacillus spp. as well as pathogenic ones to important commodities such as interactions between Vibrio harveyi and whiteleg prawns Litopeaeus vannamei. Likewise he also joined in several scientific and professional communities of mycologists and therefore aiming as well to research fungal life forms both human commodities and otherwise. Prof. Nyoman has also patented several intellectual properties related to biological resources and microbial biotechnology.