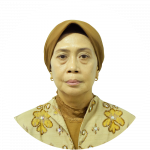 PROF. DR. PINGKAN ADITIAWATI, MS.
Professor
School of  Life Sciences and Technology
Institut Teknologi Bandung, Indonesia
Expertise Group : Microbial Biotechnology
Email : pingkan@itb.ac.id
Overview
Prof. Pingkan Aditiawati, MS. has an expertise in microbial biotechnology and studied various properties as well as beneficial uses of microbial bioresources for humans. In recent years, Prof. Pingkan has provided her expertise and effort in advancing, innovating, and refining  managements as well as treatment strategies for the COVID-19 pandemic in Indonesia. Likewise her dedications has allowed her to patent notable number of intellectual properties such as pathogenic spread monitoring system in 2018 and various innovations in the use and processing of plant-based commodities through microbial engineering.