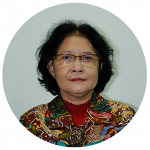 PROF. SRI NANAN B. WIDIYANTO, Ph.D.
Professor
School of  Life Sciences and Technology
Institut Teknologi Bandung, Indonesia
Expertise Group : Plant Science and Biotechnology
Email : srinanan@itb.ac.id
Overview
Prof. Sri Nanan B. Widiyanto, Ph.D. primarily focuses in plant sciences and biotechnology. Over the years Prof. Nanan has published studies relevant in her expertise such as transcriptomics and Terminal Flowering1 identification gene of teak (Tectona grandis) in various development stages. Her dedication has also warranted Prof. Nanan awards from both Institut Teknologi Bandung Rectorate and the President of Indonesia. Throughout her career, Prof. Nanan cooperated with several bioetechnology companies in Indonesia as well as joining associations related to botany and in-vitro biology.