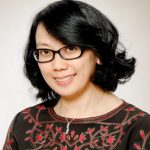 PROF. FENNY MARTHA DWIVANY, S.Si., M.Si., Ph.D.
Professor
School of  Life Sciences and Technology
Institut Teknologi Bandung, Indonesia
Expertise Group : Genetics and Molecular Biotechnology
Email : fennym@itb.ac.id
Overview
Prof.  Fenny Martha Dwivany, S.Si., M.Si., Ph.D. focuses in plant molecular biology. Her recent research interests include fruit ripening process to further improve postharvest biotechnology, plant-disease interactions in developing biological control technology, as well as genomics, transcriptomics, functional genomics, and biodata related to the biodiversity, tropical fruit ripening, and plant-disease interactions. One of her remarkable recent project is the Banana Group that is aiming to study biological properties of bananas as one of the most important bioresources for humans. Likewise, throughout the years Dr. Fenny has published plenty of researches on important plant species as well earning notable number of awards from her dedications and efforts in the field.