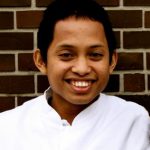 Dr. Ahmad Faizal
School of Life Sciences and Technology
Institut Teknologi Bandung
E-mail : afaizal@sith.itb.ac.id
Ahmad Faizal is interested in the field of plant secondary metabolite and metabolic engineering. During his Ph.D in Ghent University, Belgium, he developed strategies to modulate the production of triterpene saponins  from medicinal plants. These are including the classic tissue culture techniques, polyploidization, genetic engineering of uncommon plant species using Agrobacterium-mediated transformation, flow cytometry, and metabolic engineering.
Medical Mosses and Ferns
Elucidation of Saponin Biosythesis in Javanese Ginseng
Formation of Artificial Agarwood
Ph.D Student:
Master Student:
Sulistyanti Pancaningtyas
Ika Qurrotul Afifah
Yesy John Mba'u
Visi Tinta Manik
Undergraduate Student:
Mohamad Yusuf Fahreza
Aggy Agatha
Nissa Adn'ain
Ryan Kharisma N.R (Graduate 2016)
Meliawati Dwi Utami (Graduate 2016)
Ina Karlina (Graduate 2016)
Vatrika Afni Efendi (Graduate 2016)
Rina M. Sianipar (Graduate 2016)
Fery Febriansyah (Graduate 2016)
Katarika Ika Kurniawati (Graduate 2016)
Rahman Tri Putra (Graduate 2016)
Nadya Ayu Sekarrini (Graduate 2016)
Pricillia Amanda (Graduate 2016)
Anisah Firda Rahmani (Graduate 2016)
Isqim Oktaviani
Maria Mashito Makajanma (Graduate 2016)
Alda Widya Prihatini Azar (Graduate 2016)
2020
Faizal, A., Azar, A.W.P., Turjaman, M., Esyanti, R.R. 2020. Fusarium solani induces the formation of agarwood in Gyrinops versteegii (Gilg.) Domke branches. Symbiosis. 81(1)
A. Faizal, V.T. Manik, I. Iriawati and R.R. Esyanti. 2020. Establishment of hairy root cultures and analysis of saponin production in Javanese ginseng (Talinum paniculatum Gaertn.). Acta Hortic.
Andrianto, H., Suhardi, Faizal, A. 2020. Performance evaluation of low-cost iot based chlorophyll meter. Bulletin of Electrical Engineering and Informatics. 9(3)
Iriawati, Isqim Oktaviani, & A. Faizal. 2020. Suhu Tinggi Berpengaruh Negatif pada Perkembangan Polen Cabai (Capsicum annum L.) cv. Tanjung-2. Jurnal Ilmu Pertanian Indonesia (JIPI). 25(1). 19-25.
DOI: 10.18343/jipi.25.1.192
Faizal, A., Taufik, I., Rachmani, A.F., Azar, A.W.P. 2020. Short communication: Antioxidant and antibacterial properties of tree fern cyathea contaminans. Biodiversitas, 21 (5)
Faizal, A., Sembada, A.A., dan Priharto, N. 2020. Production of bioethanol from four species of duckweeds (Landoltia punctata, Lemna aequinoctialis, Spirodela polyrrhiza, and Wolffia arrhiza) through optimization of saccharification process and fermentation with Saccharomyces cerevisiae. Saudi Journal of Biological Sciences.
2017
2016
2015
2013
2012
2011
| No | Course Code | Course | Credit Unit |
| --- | --- | --- | --- |
| 1 | BE-2201 | Plant Biology (Laboratory) | 1 |
| 2 | BI-2204 | Project in Plant Science | 2 |
| 3 | BE-4202 | Plant as Production System | 3 |
| 4 | BA-2101 | Plant Physiology and Development | 4 |
| 5 | BI-4097 | Final Project 1 | 0.5 |
Paten 
Faizal, A. dan Priharto, N. 2020. PRODUK SILASE DARI TUMBUHAN Landoltia punctata UNTUK HEWAN RUMINANSIA MELALUI FERMENTASI MENGGUNAKAN BAKTERI Lactobacillius plantarum. Paten ID : P00202004106