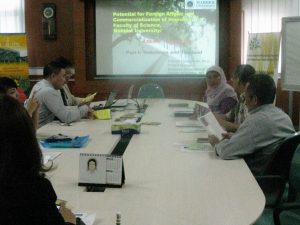 Hari Rabu, Tanggal 14 September 2011, SITH ITB kedatangan tamu dari Mahidol University Thailand yang dipimpin oleh Associated Profesor Dr.Sittiwat Lertsiri, Kepala Unit Business Development, Faculty of Sciences of Mahidol University.
Rombongan tamu disambut oleh Dekan SITH, Dr Tati Suryati Syamsudin pada sekitar jam 09.30.
Tujuan utama dari kunjungan ini adalah untuk bertukar pandangan dan informasi tentang pengelolaan unit, pengembangan lembaga bisnis, manajemen hak kekayaan intelektual dan gambaran teknologi sterilisasi serangga dan bioteknologi yang berkaitan.
Selain itu, tim berkeinginan untuk mengeksplorasi kemungkinan penelitian bersama dan kerjasama bisnis.
Pada pertemuan tersebut, salah satu tamu yaitu Asst. Prof. Dr. Sujinda THANAPHUM menyampaikan paparan berjudul "POTTENTIAL FOR FOREIGN AFFAIRS AND COMMERCIALIZATION OF INNOVATION" tentang pengembangan lalat buah. Pihak Mahidol University mengajak untuk berkerjasama dalam penelitian marker DNA B. carambole, yang mana hasil markernya dapat digunakan oleh kedua pihak
Adapun delegasi dari Mahidol University tersebut adalah:
Assc. Prof. Dr. Sittiwat LERTSIRI ; Head, Business Development Unit. Faculty of Sciences Mahidol University.
Asst. Prof. Dr. Sujinda THANAPHUM ; Head, Molecular Genetics of Fruit Flies Laboratory, Faculty of Sciences Mahidol University.
Ms. Pimprapai THEERACHEEP ; Deputy Director, Intelectual Property Management Office. Mahldol University
Dr. Nidchaya AKETARAWONG ; Researcher, Malecular Genetics of Fruit Flies Laboratory, Faculty of Sciences. Mahidol University
Miss Jiraporn JIRANANTAKIJ ; First Secretary, Department of International Economic Affairs, Ministry of Foreign Affairs of Thailand
Miss Vorakan TANTARATCHROEN ; Second Secretary, Department of International Economic Affairs, Ministry of Foreign Affairs of Thailand