ITB-Universiti Selangor Joint Seminar On Life Sciences & Technology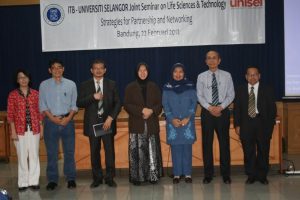 Rabu, 22 Februari 2012, SITH bekerjasama dengan UNISEL menyelenggarakan acara seminar 'ITB-Universiti Selangor Joint Seminar On Life Sciences and Technology: Strategies for Partnership and Networking.
Pada acara tersebut, Dekan SITH menyampaikan sambutan, dilanjutkan dengan acara sesi I pembicara dari Universiti Selangor, Fatimah Corazon Abdullah Norwati dan Nadzirah Abua Samah Rozila Alia dengan topik 'Plants in the Quran and Hadith' : (1) Nutraceutical and Phamacological Value of Plants in Quran and Hadith, (2) School in a Quranic Botanical Garden- Tunas Ilmuan, (3) Halal Quality Assurance of Food and Health Care Produc. Kemudian pembicara berikutnya Abdul Latif Ibrahim Norazah Nawawi Hasdianty Abdullah dengan topik 'Microbiology': (1) Green Chemistry For Sustainable Development, (2) Molecular Biology of Rhodococcus, (3) Proteomics of Rhodococcus. Pembicara berikutnya Norazah Nawawi menyampaikan materi 'Spies Program at UNISEL': Women In Science at IAB.
Sesi II pembicara dari SITH, Sony Suhandono dengan judul 'Biotechnology' : Control of Gene Expression Studies and Its Application in Molecular Pharming and Metabolite Engineering, kemudian Taufikurahman dengan judul 'Plant Science': Challenges and Trends in Researches on Plant Sciences in Indonesia dan pembicara terakhir I. Nyoman P. Aryantha dengan judul 'Microbiology': Microbe for Better Life and Environment.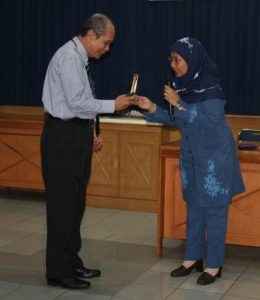 Pada kesempatan seminar tersebut ditandatangi juga MoA antara SITH-ITB dan IAB-UNSEL.