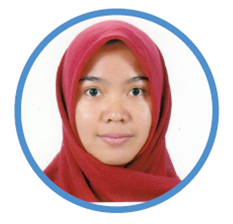 Lili Melani, S.T., M.Sc., Ph.D.
School of Life Sciences & Technology
Institut Teknologi Bandung Jl. Ganesa No. 10 Bandung,
Phone : 62-22-2511575; Fax : +62 22 253 4107
Email : lili@sith.itb.ac.id
A graduate from Kookmin University, Korea and Institut Teknologi Bandung, Indonesia with effective communication, full-time learner, and passionate in science and technology research field area.
Education

Jenjang Pendidikan
Tahun (opsional)
Bidang (opsional) dan Asal Institusi
Sarjana (S.T.)
2010 – 2014
Rekayasa Hayati – Institut Teknologi Bandung Indonesia
Master (M.Sc.)
2015 – 2017
Kookmin University, South Korea
Doktor (Ph.D)
2017 – 2020
Kookmin University, South Korea
Additional education*
 
 
Publication
List of Publication
The surface softness and mechanical properties of wood pulp/Lyocell wet-laid nonwoven fabric (Lili Melani and Hyoung Jin Kim, Journal of the Textile Institute, 08/2020)
Characteristics of empty palm bunch fibers as alternative pulp material (Ihak Sumardi, Anne Hadiyane, Alfi Rumidatul, dan Lili Melani, American Journal of Applied Sciences 06/2020)
Mechanical properties of low-density paper (Na Young Park, Young Chan Ko, Lili Melani, Hyoung Jin Kim, Nordic Pulp and Paper Research Journal 02/2020)
Physicochemical properties of starches from several agricultural sources: Application to a starch-based adhesive (Lili Melani and Hyoung Jin Kim, Korea TAPPI 04/2019)
Stability of fatty acid-containing AKD emulsions and sizing performance on handsheets (Lili Melani, Jung Yoon Park, Hyoung Jin Kim, Journal of Dispersion Sciences and Technology 06/2019)
Effect of chemical additives on softness component of hygiene paper (Jung Yoon Park, Lili Melani, Hyeonggyu Lee, Hyoung Jin Kim, Nordic Pulp and Paper Research Journal 05/2019)
Principles of developing physical test methods for disposable consumer products (Young Chan Ko, Jung Yoon Park, Lili Melani, Nayoung Park, Hyoung Jin Kim, Nordic Pulp and Paper Research Journal 10/2018)
Surface characterization of paper and paperboard using a stylus contact method (Young Chan Ko, Lili Melani, Nayoung Park, Hyoung Jin Kim, Nordic Pulp and Paper Research Journal 08/2019, In printing)
Effect of pulp fibers on the surface softness component of hygiene paper (Jung Yoon Park, Lili Melani, Hyeonggyu Lee, Hyoung Jin Kim, Holzforschung – International Journal of the Biology, Chemistry, Physics and Technology of Wood 08/2019, In printing)
Physical properties and antimicrobial behavior of food packaging paper by green tea extract (Sora Back, Lili Melani, Hyoung Jin Kim, Korea TAPPI 12/2017)
Evaluation of preservation properties of paper by ZnO particles as a filler (Jong Keun Lim, Lili Melani, Hyoung Jin Kim, Korea TAPPI 08/2017)
List of Presentations
Production of cellulose-based nonwoven fabric-like materials from wood fiber (Poster, KTAPPI Fall 2019)
Effect of prehydrolysis on soda pulping of mulberry bast for dissolving pulp grade (Poster, KSIEC Spring 2019)
Physical properties affecting the disintegration of tissue paper and tissue product (Poster, KSIEC Spring 2019)
Surface friction measurement of paper and paperboard (Oral, KTAPPI Spring 2019)
Softness evaluation of tissue products by physical measurements (Oral, REPTech Symposium 2018)
Relationship between fractal dimension and surface roughness of paper (Poster, REPTech Symposium 2018)
Effect of fatty acid- and AKD-dosage on hydrophobicity of paper (Poster, REPTech Symposium 2018)
Fractal dimension analysis of surface roughness of P&W (Oral, KTAPPI Fall 2018)
Surface friction measurement of facial tissue paper (Poster, KSIEC Fall 2018)
Effect of modified pulp on tissue properties (Oral, KTAPPI Spring 2018)
Effect of dry strength agent on tissue properties (Poster, KSIEC Spring 2018)
Chemico-physical properties of starch from several agricultural sources (Oral, KTAPPI Fall 2017)
Effect of reaction condition on alkali-modified starch and their properties (Poster, KSIEC Fall 2017)
Effect of fatty acid content on AKD emulsion stability and sizing performance (Poster, KTAPPI Spring 2017)
Study on hydrolyzed-AKD and its effect on paper properties (Poster, KSIEC Spring 2017)
Studies on the sizing effect and storability improvement neutral sizing agent for papermaking (Oral, Pan Pacific Conference 2016)
Multistage peroxide bleaching of kenaf bast fiber and their properties (Oral, KTAPPI Spring 2016)
Preparation of high strength paper from kenaf bast fiber (Poster, KSIEC Spring 2016)
Antimicrobial effect of vetiver oil and its application on active packaging (Poster, KTAPPI Fall 2015)
Antimicrobial effect of vetiver oil and its application on active packaging material applied by dip coating method (Poster, KSIEC Fall 2015)
A study on optimum cooking conditions for high yield pulp of kenaf bast fiber (Poster, KTAPPI Spring 2015)
A study on chemical composition of mulberry bast fiber, hemp bast fiber, abaca bast fiber, and kenaf bast fiber to produce viscose rayon (Poster, KSIEC Spring 2015)
Certificates Training
Paper chemistry (03/2019)
Nanocellulose technology (07/2018)
Tissue paper and tissue product technology (05/2018)
Improvement productivity and quality of product in paper mill (09/2015)