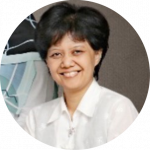 Ernawati Arifin Giri-Rachman, Ph.D.
Asistant Professor
School of  Life Sciences and Technology
Institut Teknologi Bandung, Indonesia
Expertise Group : Genetics and Molecular Biotechnology
Email : erna_girirachman@itb.ac.id
Overview
Ernawati Giri-Rachman, Ph.D. is one of the lecturers at genetics and molecular biotechnology expertise group who focuses in the field of molecular microbiology, virology, molecular and cell biology. Dr. Ernawati is also active in several projects both at home and abroad, such as the project to develop the covid-19 and hepatitis B vaccines. Dr, Ernawati is the head of the ITB covid-19 task force and is a member of the team for handling covid-19 and accelerating vaccines in the regional and national government arenas. Dr. Ernawati is an active member of several national and international organizations related to virology, microbiology and molecular biology.